Having fun on your trusty rig is super fun but getting it dirty and not taking care of it is a vicious cycle. Maintain your bike more often and it will last longer and save you money! Watch this short video to learn more.
Schedule An Appointment
Schedule Appointment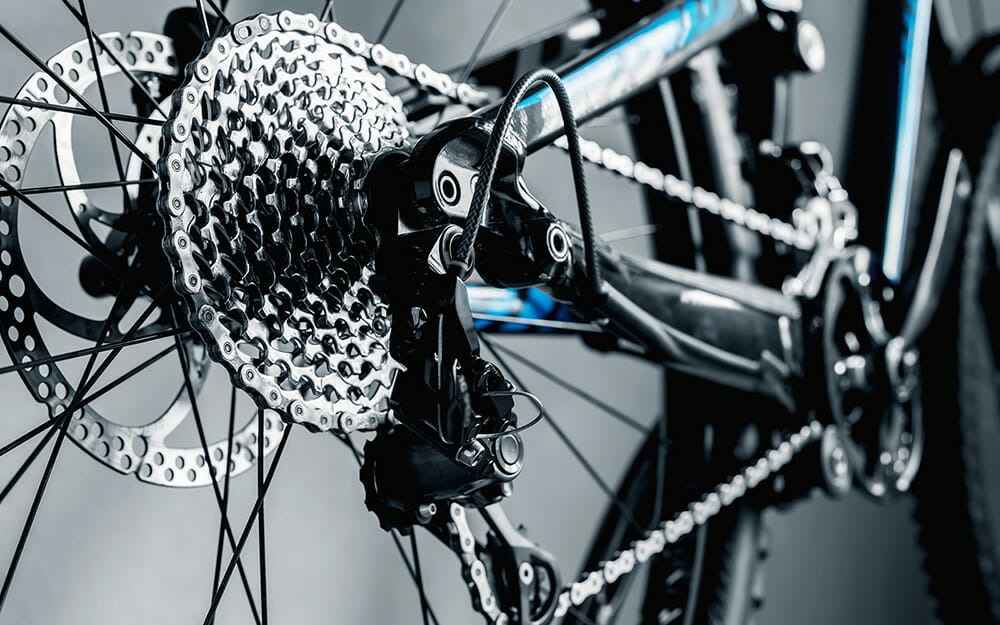 Estimates are always free!
If you need your gears adjusted, a broken spoke replaced or a flat tire fixed we're here for all your bike maintenance and service needs.
Have you ever asked the question is there a bike repair shop near me? If you're in the Dedham or Greater Boston area then you're in luck! We're just a short ride away and We work on all makes and model bicycles.
Our pro technicians have the experience, knowledge and factory training to fix your bicycle correctly the first time and every time.
We also back all of our services and tune-ups with a 30 day guarantee period. If you're not happy with our work, we'll make it right.
So, swing by the shop to discuss your concerns and find out which tune up package or bicycle maintenance services are appropriate for your needs.
"We Care About You And Your Bike"
- Safety Check
- All Adjustments
- Frame Wipe Down
- Air / Lube
Silver Tune Up
** Most Popular **
- All Adjustments
- Perfect Shifting + Braking
- Safety Check
- Wheel Truing
- Full Bike And Drivetrain Cleaning
- Parts Cleaned In Parts Cleaner
- Includes Silver Tune
- Replacement Of Cables
- Replacement Of Brake Pads
- Replace Handlebar Tape Or Grips
**Parts Additional
Personnel are very knowledgeable friendly and helpful. I prefer to go there versus other larger bike shops. They give you personalized treatment here and it's definitely appreciated. I will always go back to them for any of my biking needs - you can't go wrong here. - Frank K.
Some Of Our Most Popular Repair Services
Tune Ups
Our silver tune is our best service value. It covers most of the bases and gets you ready to hit the road or trail with confidence.
Flat Tire Repair
Do you have a flat? We can help with that and get you rolling again in no time. We stock most tubes, rim tape and tire sizes.
Chain Replace
A worn chain and cassette will greatly reduce your bike's efficiency. We can handle your drivetrain replacement needs.
Wheel Truing
We will straighten your rims by making the needed spoke adjustments. Your wheels will be straight once again!
Other Bicycle Maintenance Options
SERVICE POLICIES
Bicycles left at the shop for over a year will be sold to cover the cost of your repair.
We will make every attempt to contact the customer prior to selling.
If we don't receive any correspondence the bike in question will be sold.
Dedham Bike reserves the right to exceed any verbal or written estimate by 20% where safe bicycle operation is of concern.
TuneUps
We offer multiple tuneup options
(see above)
Drivetrain
Chain replacement
Cassette / Freewheel replacement
Chainring replacement
Derailleur adjustments
Derailleur installation
Shifter installation
Cable replacement
Overhaul
Suspension Overhaul (Fork Or Rear Shock)
Brake overhaul (Bleed & Pad Replace)
Complete bicycle overhaul (Full removal of all parts & reinstall etc - off season only)
Complete bearing overhaul
Detail bike: thoroughly clean bicycle and components; polish and wax bicycle
Front End

Adjust headset
Overhaul headset
Replace headset
Replace handlebars
Replace stem
Replace handlebar tape
Replace handlebar grips
Bearings

Overhaul headset
Overhaul/replace bottom bracket
Overhaul hub(s)
Overhaul pedals
Overhaul derailleur pulleys

Installing and adjusting shoe cleats
Basic seat and handlebar adjustment (free with purchase of new bike)
Complete fitting to bicycle (by appointment only)
Wheel Repairs

Flat tire repair
Replace tire(s)
Replace broken spoke(s)
Install new front wheel
Install new rear wheel (derailleur)
Install new rear wheel (coaster-brake)
Install new rear wheel (internally geared)
Wheel truing (minor)
Wheel truing (major)
Wheel retensioning, dishing and truing
Wheelbuilding
Hub bearing overhaul
Replace cassette
Frame & Fork / Suspension Services




Check/align dropouts
Replace fork
Tune front and rear suspension
Tune suspension: fork
Tune suspension: shock
Suspension fork overhaul
Rear shock overhaul
Steel frame alignment/repair
Frame preparation for assembly (thread chase & face)
Derailleur hanger (frame) repair/replacement
Brake Work

Replace brake cable(s)
Replace brake shoes
Minor brake adjustment (cable)
Minor brake adjustment (disc)
Major brake adjustment (cable)
Major brake adjustment (disc)
Bleed hydraulic disc brakes
Disc-brake rotor repair
Hydraulic disc brake line repair/replace
Install and adjust new brakes (cable)
Install and adjust new brakes (disc/hydraulic)
Install and adjust new brakes (disc/cable)
Other Services
Box bike for shipping
Ship Bicycle
Build boxed bike (shipped)
Replace seat
Replace seatpost
Install toe clips
Install rear rack
Install handlebar light
Install taillight
Install fenders
Install lighting system
Install baby seat
Install water bottle and cage
Install and setup cyclo-computer
Install kickstand
Install pump