Bontrager Bike Accessories And Parts

When riding with Bontrager you're using the best cycling gear out there.
Due to cutting edge technologies and by using only the best materials you can be assured of that.
Hey, why not upgrade that bike of yours with new parts or accessories?

Some new gear is a great way to turn the old into new or the good into great! If you're looking to save, check out the on sale items section below.
Bontrager Unconditional 30 Day Guarantee
Ride it, if you're not stoked on your purchase return your item within 30 days with your original receipt and we'll
get you a refund or an exchange on your Bontrager product. It's really that simple.
Bicycle Accessories And Parts Built On History

Few names have such a rich history in cycling as that of Keith Bontrager. A former motocross racer and mechanic, Keith turned his attention to bicycles after a string of injuries forced him to make the jump to bikes in the late 70's. He built his first road frame in 1979, and followed it up a year later with his first mountain bike.
Keith's frames were some of the most sought-after rigs in the early years of mountain biking and eventually his one-man operation became a limited-production facility in 1992.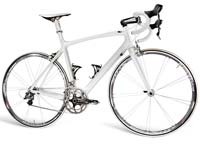 As Keith turned the brand from one man's name into a cycling legend, the Trek bicycle company picked him up in 1995 to help spread his quality components to the biking world. From frames to forks, from wheels to tires, and from handlebars to cranks, Keith has produced it all. Several Trek race teams have ridden wheels and components inspired by Keith to take stage victories in the world's toughest cycling events, the Tour de France and Giro de Italia.

The tradition of excellence continues to this day as the brand expands under the guidance of Trek, with Keith a major component of the growth. He still races and tours the world, testing his products in the most extreme conditions possible. Ultra-light, aerodynamic carbon wheels and big, burly downhill tires, as well as every component in-between all have a place in the lineup.
Be sure to hook yourself up with the full suite of components and products for the ultimate in cycling excellence!