Gravel Bike Guide - Adventure Starts Here

Take The Road Less Traveled With A Gravel Adventure Bike
Resembling something between a road bike and a cyclocross machine with bigger tires, gravel rigs (aka adventure bikes) will allow you to dip off the main drag and hit some of those curiosity grabbing single tracks, carriage trails and dirt fire roads.
With more clearance for wider tires and rims as well as a more relaxed geometry these adventure loving bicycles will take you places a road bike could only dream. On the other side of things gravel rigs are no slouches on pavement either.
If you have the mind to hit your local hot shot road ride simply do a quick tire change and off you go! These versatile bikes can also sub in as a lightweight trail bike under a skilled rider.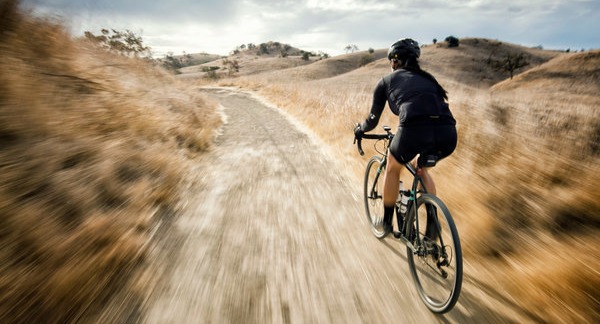 If you're feeling like hitting that unexplored single track trail or that local fire road that has your curiosity, a gravel style bike may just be the right tool for the job.
What Is A Gravel Bike?
In a nutshell what makes these bicycles tick is a frame and fork that allow for more tire clearance. This allows you to run tires that get close to the volume and size of a 29er or 650b mountain bike tire, ensuring great traction and durability.

Another side effect of more tire clearance is the bike's ability to shed mud and any debris that you may pickup along the way. These are things that would slow down a standard road bike or even a race oriented cyclocross rig.

These all purpose adventure bikes also tend to come set up with disc brakes, are ready to run tubeless tires and run a stable geometry for easy handling.

Other things you'll see on a true gravel bike may be a suspension fork, yep that's right. Multiple companies are bringing short travel front shocks into the game to help smooth out the bumpier trails or dirt roads you'll find on your adventures.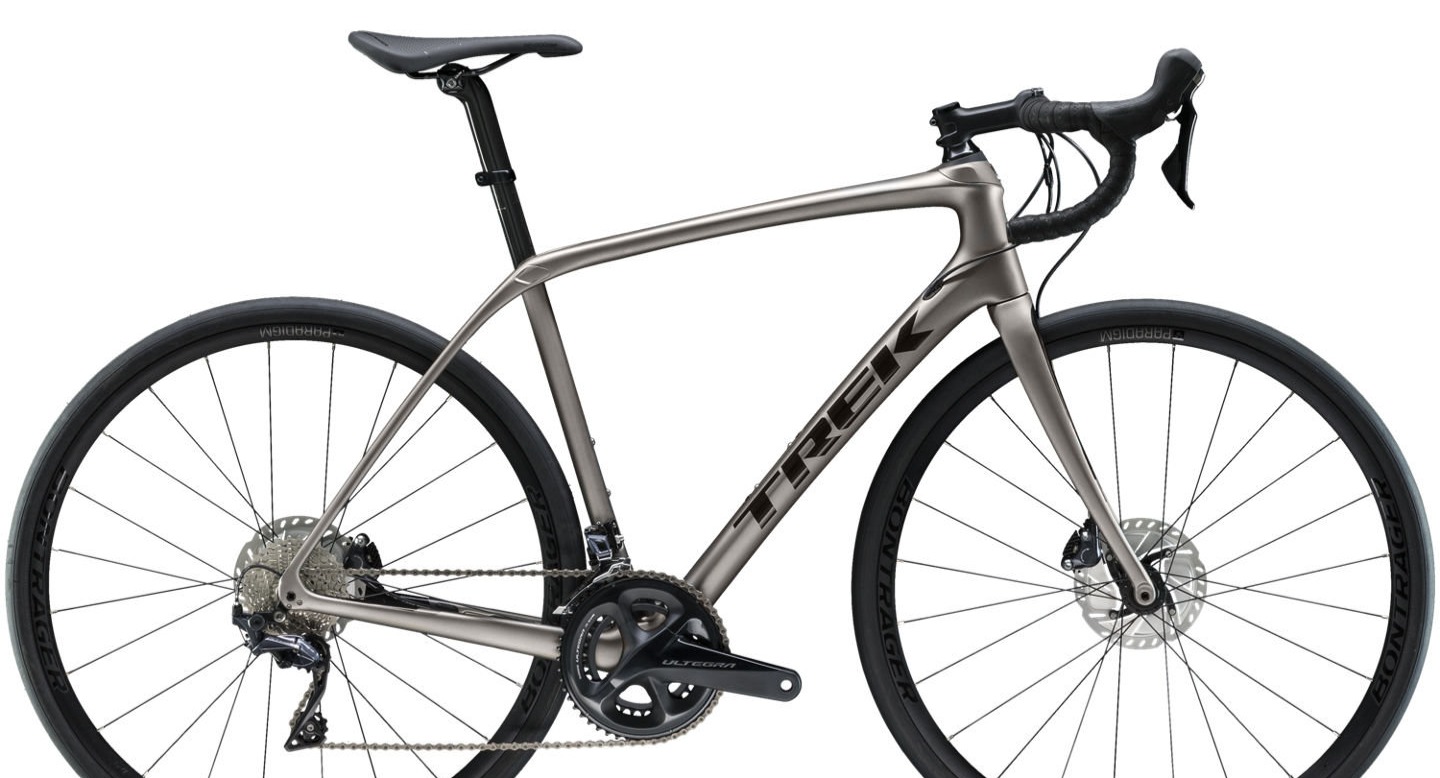 Here is a great example of a "gravel capable" endurance road bike. Disc brakes, wider tubeless ready tires, more frame clearance are features. This particular bike is the Trek Domane , more than just a pavement ripper.
Can Your Disc Brake Road Bike Be Used As An Adventure Road Bike?
Yes, you can! Many of today's endurance style road bikes that are disc brake equipped can moonlight as a lighter duty adventure road bike.
Due to most of these bikes coming with the ability to run bigger tires and running wider rims, heading off road is possible.
This is a great option for folks that may prefer the more classic fit and style of a performance road bike but would like to have the off road option.
If you have a more aggressive off road ride planned just pop on a more trail or gravel capable tire and you'll be fine.
Just remember that in this scenario you are technically riding a road bike, so it does have it's limitations in off road gearing and durability.
How Much Does A Gravel Bike Cost?
Well, in reality you can get into a bike set up for rough road riding for under $2000!
Yep, that's right under 2k. While being set up for this type of riding you are dealing with an entry level gravel bike with starter level parts etc. So the weight, durability and shifting performance will not give you what a higher end bike in this category would.
There are limited options in this price range, we've listed a few options for the best gravel bikes under $2000 for you.
Our Best Gravel Bikes Under $2000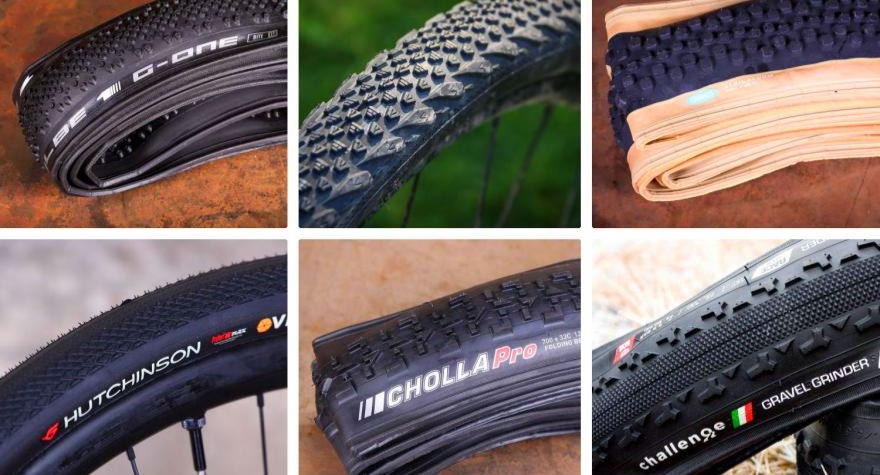 A few example of adventure or gravel style tires. Photo courtesy of Road.cc
Who knew there were so many styles of gravel tires hey?

Which Tires Should You Use?
Today there are many options available for gravel bike tires. Some are designed to be run as a tubeless tire setup, others can still run the old tubed setup.
We would highly suggest getting set up tubeless if it's in the budget as the advantages are huge. Lower tire pressures for added traction as well as durability being the top two.
As far as brands go, most major tire brands are putting out decent gravel or adventure style tires these days. Look for a tire and tread pattern that suits your intended riding style as well as your budget.
In a pinch, you can actually run a thinner cyclocross style tire on a standard rim brake road bike if frame spacing allows for it! So don't shy away from that dirt road ride if all you have is a racing style road bike. Just get a proper tire to work with your current bike, you may just get the gravel grinder bug!
A short video from Fuji showing what gravel adventure bikes are capable of. On pavement, dirt or grass these great multi purpose bikes can do nearly everything.
Do You Need Special Clothing Or Gear To Ride Your Gravel Bike?
To keep it simple, no you don't need special "gravel specific" gear.
A couple suggestions however if we may. We suggest rolling in a pair of baggy shorts if you're planning on heading off road as they will give more protection in the event of a crash they can also give you more storage.
The next and biggest suggestion is switching your road specific pedals and shoes out for a mountain style SPD shoe and SPD pedal set up.
MTB style shoes are more durable and due their recessed cleats will allow you to walk or hike a bike in them, road shoes are not at all great for walking in.
As always, make sure you have an inflation device with you as well as a few bucks to get you home if need be. Now go have fun!
Six Of Our Favorite Adventure Gravel Bikes - In No Particular Order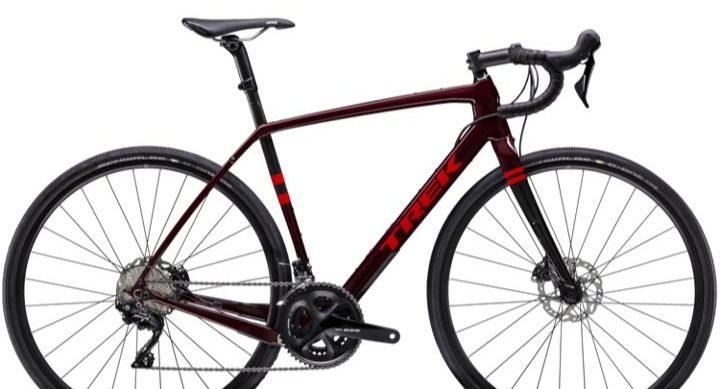 Trek Checkpoint SL 5
The Checkpoint series is Trek's killer gravel bike.
The bike consists of 500 Series OCLV Carbon frame with Rear IsoSpeed.
Powerful hydraulic disc brakes, a full 2x11 Shimano 105 groupset, and 700x35 Schwalbe TL-EX G-One Tubeless Ready gravel tires.
Checkpoint SL 5 also has Control Freak internal cable routing, an alloy seatmast cap, Carbon Armor to protect your frame against debris.
12mm thru axles, and Stranglehold dropouts that make it easy to fine-tune your geometry or run singlespeed.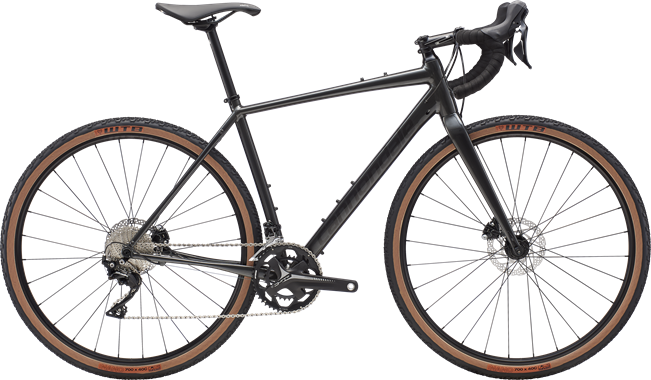 Cannondale Topstone 105
The Topstone series is pure gravel goodness.
Cannondale's decades of aluminum expertise deliver a frame that's light, efficient and oh-so-smooth, while a full carbon fork with tapered steerer and a 12mm thru-axle provides light, comfortable and precise-steering front end.
By sharing it's geometry with the legendary Synapse, the Topstone is sure to give you a confident yet forgiving ride.
With room for up to 42C tires, multiple water cage mounts and top tube storage mounting options you can stay on the trail or road longer.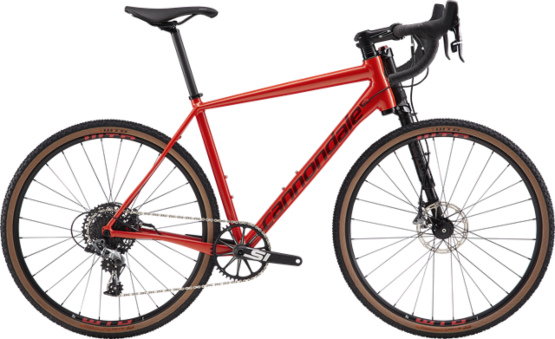 Cannondale
Slate SE Force 1
The Slate series from Cannondale are one of the few bikes out there that currently offer a suspension fork to soften the big hits.
Slate offers big-volume tires, a plush rear triangle, and a Lefty Oliver suspension fork. Massive 42c tires on 650b wheels give you unreal cornering grip, traction and comfort.
Short chainstays give Slate snappy quickness, while a slack head angle and long front-center keep things stable for off-road excursions.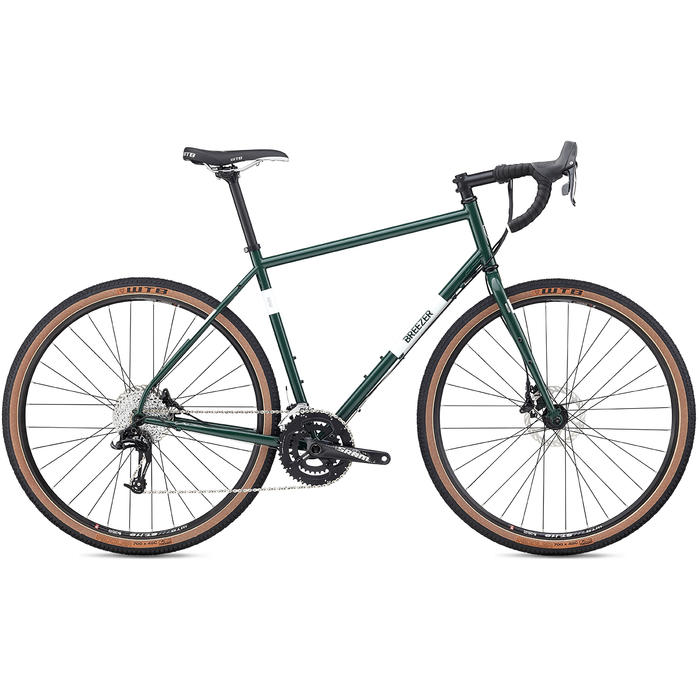 Breezer Radar Pro
Breezer is very proud of their Radar series of gravel - adventure bikes.Let Breezer's Radar Pro roll your bearings toward determined velocities of distant desire.
Constructed using a double-butted chromoly frame and fork with rack mounts, five water bottle mounts, disc brakes and clearance for 2.1-inch off-road tires, the Radar is the perfect choice for urban adventures, full-blown bikepacking or anything in between.
A wide-range SRAM drivetrain provides the perfect gear ratio to get you to the top of the steepest climbs and back down again even when fully loaded with gear. The Radar is ready to be your ultimate Road And Dirt Adventure Rig.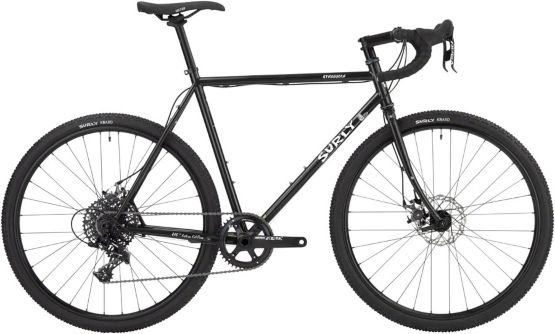 Surly
Straggler
Straggler is bred from Surly's revered rim-brake Cross-Check and comes out a lot the same, but also a little different.
Frame geometry is pretty close, and you get all the attachment provisions for racks, fenders, and bottle cages that make these bikes something more utilitarian than a standard 'cross racer.
Disc brakes are the obvious change, and the Straggler sports Hayes CX Experts with 160mm rotors front and rear. The keen spec continues with a SRAM Apex 2x10 drivetrain.
A Salsa Cowbell handlebar is great for riding on mixed terrain, too, giving you a bit more control when it's loose while retaining comfortable positioning for cranking into the wind.
Make it your gravel explorer or daily commuter.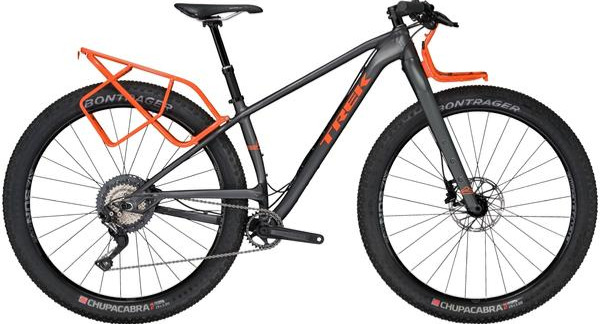 Trek 1120 Adventure Bike
With the 1120 Trek set out to make a mountain style adventure bike that could of course handle gravel grinding as well as legit mountain bike terrain.
With many of the same features as the Stache series of bikes but with more room for add-ons like bags and racks.
The included racks allow you to strap large bike packing style bags on as well as room for a bedroll or perhaps a tent etc.
When it comes time to hit the gnarly stuff rest assured that you have the heart of a full scale mountain bike underneath you.